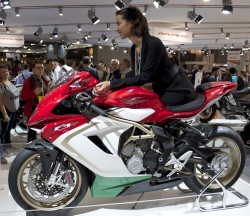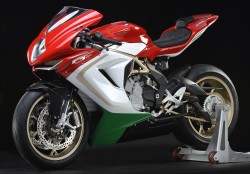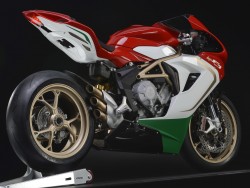 Only 300 units of the MV Agusta F3 800 Ago will be built, so if you have 24,000 euros in your bank account, get yours now!
It's almost a given that there has to be a limited edition 'Ago' variant of every superbike that MV Agusta build. So here we are - MV have announced the new
F3 800
Ago - built in tribute to the great Giacomo 'Ago' Agostini and featuring all the right bits like a red-green-and-white paintjob, various gold-painted bits and a suitably outlandish price tag.
A long time ago (er, well...), Ago won many races and premier class motorcycle road racing world championships for
MV Agusta
. However, the last race he won with MV Agusta was the 500cc German Grand Prix at the Nürburgring circuit, back in 1976. That was Ago's 122nd and final victory in motorcycle GPs. Yeah, that was almost 40 years ago. So while Ago's greatness remains undisputed, we don't really know if modern day buyers would connect with his achievements on the track.
But coming back to the
MV Agusta
F3 800 Ago, it's a stunning little machine in its own right. The bike is powered by a 798cc inline three-cylinder engine that produces 148 horsepower and 88Nm of torque. And, there's a host of cutting-edge electronics here, including an 8-level traction control system, the MVICS (Motor & Vehicle Integrated Control System) package which includes a ride-by-wire throttle control system, Bosch 9MP anti-lock brakes with race mode, and a slipper clutch.