The Big Bear Chopper GTX-F
looks... interesting?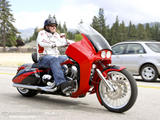 Pics: Motorcycle USA
We'll admit we aren't exactly crazy about custom cruisers here at F&F. However, the
Big Bear Choppers
GTX-F got our attention because it looks rather… interesting? Well, all right, not everyone's going to like it, but for those who might be looking for something that's a bit offbeat, hey, maybe the GTX-F isn't so bad!
Motorcycle USA's
Bryan Harley recently rode the US$41,000 GTX-F and came away reasonably impressed with the bike. 'As far as function goes, the ride-quality is admirable. It's well-balanced, especially considering its length, and the motorcycle is capable of lean angles that I've never experienced on a factory-custom before without dragging hard parts. The GTX-F has all the right pieces to the puzzle, but range, storage, and seat comfort prohibit it from being a full touring machine. For short jaunts, however, or to be the centre of attention at your local bike nights, the GTX-F fills the bill,' he says.
Read Bryan's full riding impression of the GTX-F
here