With that 2.3-litre, 148bhp engine pumping away to glory, the Triumph Rocket III Roadster is one formidable motorcycle all right...
With its 2.3-litre three-cylinder engine that produces 148 horsepower and 220Nm of torque, the
Triumph
Rocket III is a motorcycle that's not to be trifled with. It may be one cylinder and 50bhp down on the Yamaha VMax, but for sheer ferocity and the ability to scare the pants off lesser machines, the British-built Rocket III is up there with the best of them.
Motociclismo
recently had the opportunity to test the 2010 Rocket III Roadster and here are some excerpts from what they have to say about the bike:
We verified at our own technical centre that the Triumph Rocket III Roadster weighs no less than 353 kilos, which makes it one of the biggest, heaviest production motorcycles currently available anywhere. This is definitely not a bike for beginners. And even those who've used big touring bikes in the past need to be careful with the
Triumph
– if you don't concentrate hard enough during low-speed maneouvers, you could end up in a very complicated situation indeed…
The initial heaviness gives way to a smooth and comfortable ride once the bike is on the move. The riding position is very good and allows you to control the heavy machine with ease. The seat is relatively close to the handlebars and is remarkably comfortable. The 24-litre fuel tank provides a reasonably long range, since the bike averages about 12.2km/l – about what you'd expect from that massive three-cylinder engine.
Triumph
claim 148bhp for the Rocket III Roadster, though we got 126bhp at 5,790rpm when we tested the bike on our dyno. On the road, the engine seems smoother than before and there's hardly any noticeable vibration. The shaft drive system works well, the gearbox is adequately slick and there's always huge amounts of thrust available at low and medium revs, where the Roadster accelerates really hard.
The Rocket III Roadster is happy travelling at whatever speed you want, though around 140km/h feels just about perfect. On motorways, the tiny front fairing provides more wind protection than you'd probably imagine. However, as you'd expect for such a big, heavy bike, the Roadster can be a touch wobbly and you need to be extra careful with it in the corners. The suspension is soft and provides a comfortable ride, but isn't up to the task of hustling the bike along quickly. That said, the rear shock is fairly progressive and effective. The Rocket's brakes are powerful and work well and the standard ABS is perfectly adjusted and very useful indeed.
This isn't really the bike for tight, twisty mountain roads – you need to plan all your manoeuvres well in advance. The bike reacts slowly and reminds you, if you insist on going too fast, that it isn't really a streetfighter. However, with that big, powerful engine pumping away lustily, the new Rocket III Roadster can be a surprisingly enjoyable bike to ride at all times.

Yes, the Triumph V-Max Rocket III Roadster should be a blast to ride...
2010 Triumph Rocket III Roadster: Tech Specs
Engine:
DOHC, 12-valve, fuel-injected, liquid-cooled, 2,294cc inline-three
Power:
148bhp at 5,750rpm
Torque:
220Nm at 2,750rpm
Transmission:
5-speed
Chassis:
Tubular steel double cradle
Front suspension:
Non-adjustable 43mm USD fork, 120mm travel
Rear suspension:
Preload adjustable double spring shock, 105mm travel
Brakes:
Twin 320mm discs with four-piston callipers (front), single 316mm disc with twin-piston calliper (rear), ABS standard
Wheels and tyres:
150/80-17 (front), 240/50-16 (rear)
For the original article, please visit Motociclismo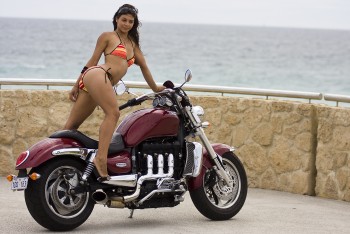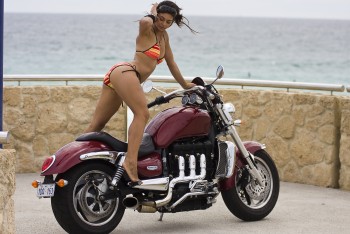 Stock Rocket III not enough for you? Want to bolt on a supercharger or a turbocharger and give it some fancy paint? Why not, it can be done. See here
Rocket III Roadster promo video...
Very cool promo video featuring Triumph's 2010 range of bikes