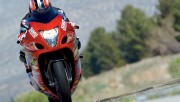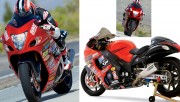 With NOS and a host of aftermarket parts, Richard Sims' Hayabusa will, if you're so inclined, hit a top speed of around 370km/h. No, it's not meant for fetching groceries from the supermarket...
From the pages of
Sport Rider
magazine, this is Richard Sims' (of Sims Motorsports) hot-rodded
Suzuki
Hayabusa and its claim to fame is that it can hit a top speed of around 370km/h. Unless you've got a Bugatti Veyron parked in your garage, you probably don't want to race Richard's bike…
The list of mods on this
Hayabusa
is, of course, very long. The engine has been bored out to 1510cc and Richard has fitted 86mm forged pistons, billet big block cylinder assembly, high-lift camshafts with adjustable cam sprockets, stainless steel valves, ceramic bearings in the front and rear wheels (for reduced rolling friction), a two-stage lockup clutch and an air-shifter system for quick, smooth gear shifts. A Schnitz PNC-3000 nitrous controller and Bazzaz Z-Fi fuel computer have also been fitted to control the bike's 'wet' (one that injects both fuel and NOS) nitrous injection system.