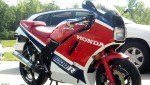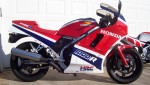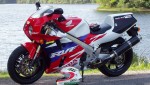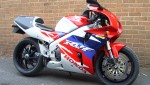 Honda made some pretty memorable V4-engine superbikes in the 1980s and 1990s and the 2012 RVF1000R could well continue that great tradition!
Back in November last year, we carried a report where
Wayne Gardner
said that Honda would soon be launching an all-new V4-engined Fireblade. 'While I was in Europe, I got talking to some Honda officials who confirmed to me that they are really looking forward to the new 1000cc MotoGP category. They also said they'll be building sportsbikes in the future with V4 engines, so they can compete in
MotoGP
with a similar V4 1000,' said Wayne back then. 'Expect your CBR Fireblade to turn into a V4 very soon. Also expect something very similar to the new V4 CBR powerplant to be utilised in Honda's MotoGP bikes when the new regulations come into force. You can bet whatever they come up with this time around will be something special,' he added.