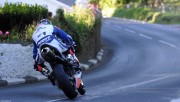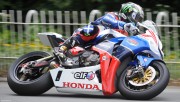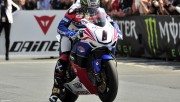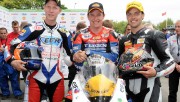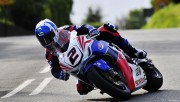 Honda TT Legends' John McGuinness won the 2011 Superbike race at the IoM, while his teammate Keith Amor took fourth place in the race despite an injured shoulder...
The 2011 Isle of Man TT began in spectacular style for the Honda TT Legends team as John McGuinness led the majority of the six-lap Superbike race to secure victory, taking his tally of TT wins to 16. His teammate Keith Amor also put in a heroic performance, riding through the pain of an injured shoulder, finishing in fourth position on his Honda Fireblade.
'I am speechless. I feel like I am dreaming. It looked like it was going to be a mega-close race to begin with. Bruce was really pushing hard at the beginning there and we lost some time but we had a great pit stop, went back out and got the lead back. I did six good laps, I didn't make any mistakes and we had two terrific pit stops by a fantastic team. They put a lot of faith in me and I put a lot of faith in them and it paid off. Somebody said to me today if you get that 16th win it will be sweet 16 – and it certainly feels sweet,' said John McGuinness.