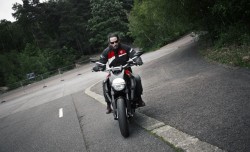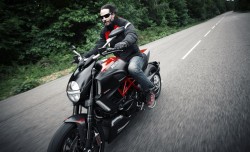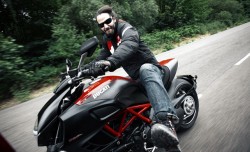 Keanu used to race bikes in the night, with the headlight switched off. And he doesn't like laws that make it compulsory for motorcycle riders to wear a helmet. Ahem.
For their November 2011 issue,
GQ
magazine have got Keanu Reeves to talk about motorcycles. 'I started when I was 22. I was working in Munich and met this girl who had a bike and I asked her if I could ride it. She said 'sure,' then I told her I didn't know how to ride. So she showed me where everything was, and I just started riding around the studio. I just got into it,' says KR, who's starred in some of our favourite movies – The Matrix series, The Devil's Advocate and
Point Break
.
Keanu loves
Norton
bikes and owns three, but has also owned Harleys and Suzuki GSX-Rs over the last two decades. Now 47, Keanu admits that at one time, he used to race his bike at night, with the headlight switched off. 'That was back in the day. I think we deal with our emotions differently when we are older, and I think the demon rides were a way for me to blow off steam when I was younger,' he says. 'Now, when I get those feelings, I think maybe I'll just handcuff myself to the bed. Wait for the Sun to come up,' he adds.