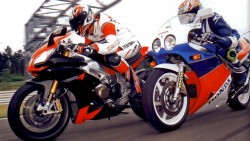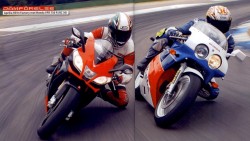 The late-1980s Honda VFR750R RC30 and the current Aprilia RSV4 are both iconic machines, from different generations. But how do the two compare against each other?
What can we say about the
Honda
RC30 that hasn't already been said before. Yes, we're among the vast number of fans which the 750cc V4-engined VFR750R still has more than two decades after it was launched. A mere 3,000 units of this bike were produced between 1987-1990 and even back then, it cost a massive US$15,000. The RC30's claimed dry weight was 185 kilos and according to some magazine road tests of the era, the bike weighed as much as 215kg with all fluids and a full tank of fuel. And by modern standards, the 750cc V4's power output was rather ordinary – 112bhp at 12,000rpm, which went up to a more respectable 133bhp with the HRC race kit that was available from
Honda
.
If the RC30 wasn't all that powerful and was a bit heavy, what's the fuss all about? More than 20 years on, why is the world still so taken with the VFR750R? Perhaps there is no logical answer to this question. Maybe it's the image we have in our minds, of watching men like Joey Dunlop and Steve Hislop and Carl Fogarty racing the RC30 around the Isle of Man. Maybe it's the bike's sheer beauty, its racy stance, its single-minded racing focus and the fact that it was designed by HRC that makes it so attractive. Or perhaps it's the bits inside that
Honda
V4 – titanium conrods, 360-degree one-piece crank, gear driven camshafts – that make the bike exotic and desirable.
Based on
Honda's
RVF750 world endurance and TTF1 racebikes, the VFR750R RC30 was essentially a 'homologation special,' built to satisfy the requirements of the World Superbikes series which started in 1988. The first batch of 1,000 bikes was released in Japan in 1987 and sold out quickly, despite a price tag of 1.5 million Yen. The RC30 came to Europe in 1988 and to the US in 1990, by which time it had already won the first two WSBK titles – Fred Merkel won the 1988 and 1989 World Superbikes championships aboard the VFR750R. Apart from WSBK, the RC30 was also very successful at the Isle of Man TT races in the hands of riders like Steve Hislop, Joey Dunlop and Carl Fogarty.