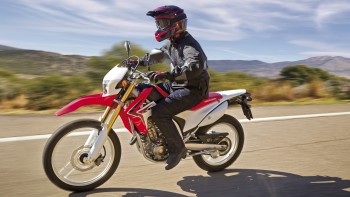 It looks a bit 1980s, but the new Honda CRF250L might actually be quite suitable for those who're looking for a light, easy to ride, non-intimidating dual-purpose motorcycle




Honda
had unveiled the CRF250L at the Tokyo Motor Show in November last year and had later
announced
that the bike would go on sale in Europe in 2012. The company has now released more details of its new dual-purpose bike, a machine which they claim combines the on-road usability and off-road performance that was pioneered by the Honda XL250S in the 1970s.
'The entire XL range proved that bolting an economical and easy-to-use single-cylinder four-stroke engine into a competent chassis created a bike that was useful, versatile and, as riders the world over found, fun,' claim
Honda
. 'The company's long history – in terms of off-road competition and dual-purpose machinery – was a useful touchstone when development of the CRF250L first began, and inspired the team that worked on it from the outset,' they add.