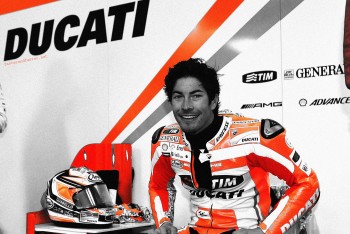 2006 MotoGP world champ, Nicky Hayden is one of the last few old school racers who're still racing in MotoGP. We hope he wins a few more races before he retires...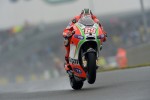 To mark their 40th anniversary,
Dainese
will produce four digital magazines this year, one each of which will look at the people, events and products from the 1970s, 80s, 90s and 00s that have helped create the Dainese legend. In the first issue (which you can download from
here
), they have, among other things, carried an interesting interview with 2006 MotoGP world champion, Nicky Hayden. Here are some excerpts from what Nicky says:
On whether experience helps in MotoGP
Experience is a big help. As the years go on, you pick up little tricks here and there that help you on race day. They don't necessarily help you to do one good lap but you so realise what helps you go the distance.
On the races he enjoys most
I enjoy racing all the tracks but of course I like racing the American rounds. Those are really special; Laguna Seca for the track and Indy is my home race. I also like the Italian races as they are home races for
Ducati
. Mugello is a great track and Misano has awesome atmosphere.