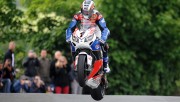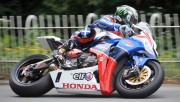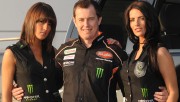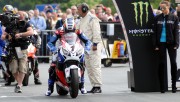 John McGuinness can lap the 60km Isle of Man TT circuit at average speeds of 211km/h. Don't know about you, but for us, that makes him the God of motorcycle road racing...
With a very impressive 19 wins at the Isle of Man, 40-year-old John McGuinness is currently at the top of his game. One of the fastest, most talented motorcycle racers in the world, McGuinness – sometimes referred to as the Morecambe Missile – holds the outright lap record at the IoM, averaging 211.75km/h around the 60km TT circuit in 2009. If that doesn't make him the God of motorcycle racing, we don't know what would.
We've always been huge fans of the Isle of Man TT, even if we do think the risk factor is a bit too high – given the number of fatal accidents that happen there every year, it never ceases to amaze us that the race actually hasn't yet been legislated out of existence. And, of course, we have nothing but respect and admiration for the talent and sheer bravery of the men who choose to race at the IoM despite all the dangers.
We recently had the opportunity to put some questions to John McGuinness, who's been racing at the IoM for 17 years now, about what it's really like to race at the Isle of Man, and here's what he had to say: